A total of 105 papers from 11 countries were accepted for the upcoming CIRED Conference.
As CIRED was postponed for a period longer than 8 months, it will be made possible to submit new papers.
The submission of abstracts and, later, papers, is done exclusively through the online application
You just need to open an account (name, surname, organization, email address) and submit an abstract.
The renewed deadline for abstract submission is September 28, 2020.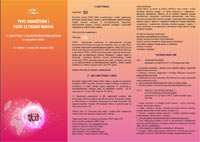 For further information please contact CIRED Serbia:



Tehnical secretary of CIRED Serbia:

Marija Erdeljan, EPS TC Novi Sad

21000 Novi Sad

Bul.Oslobođenja 100

Tel: +381-(0)21-4821-062

Mob: +381-(0)66-8044-094

e-mail: This e-mail address is being protected from spambots. You need JavaScript enabled to view it

web site: www.cired.rs




PCO Agency:

BBN Congress Management

11000 Beograd

Deligradska 9/VI,

tel: +381(0)11 3629402, 3629405

fax: +381(0)11 2682318

e-mail: This e-mail address is being protected from spambots. You need JavaScript enabled to view it

web site: www.bbn.co.rs